What was the biggest lesson learned from your adolescence?
High school sucks for most people, and it does NOT determine the course of your life. The world is so much bigger than that petty shit.
Current Music:

Foster the People - Pumped Up Kicks
Who would you appoint as Earth's ambassador to alien races, and why?
Never done one of these before, but couldn't resist. Pure and simple: Misha Collins.
Oh, there's definitely stuff like he has a background in politics, he's well educated, open-minded (ahem) and he's really likeable. Those are just details.
The real reason? He's just
so freaking weird.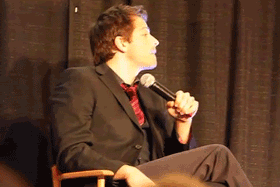 (SO SORRY F-LIST! But there's no way I'm putting this gorgeous man behind a cut. Anyway, 3 isn't too indulgent, is it?)
Current Music:

Starlight Theatre - Clear View